James Avenue Catering and Bakery
Phone: 517 655 4532 Cell: 749 6503
Wedding Cakes
Let us design a wedding cake that is perfect for you! We will show you our portfolio of wedding cakes to get ideas from, or bring in your own picture of the cake you would like us to make for you. Either way, we will make the cake of your dreams!
We can do any cake design!
Choose from the following flavors: OR Choose one flavor for each tier
White Strawberry
Chocolate Cherry Chip
Yellow Spice
Marble Lemon
Frosting:
Our frosting is homemade by us, using fresh cream, butter and imported vanilla, which ensures a light and buttery tasting frosting.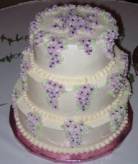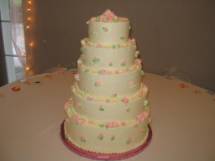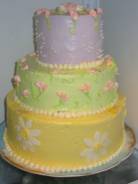 James Avenue Special
A squared tiered wedding cake, with your choice of different flavors for each tier, adorned with fresh flowers. Our most popular cake, using fresh flowers that coordinate with the colors of your wedding.
Small Desserts
Our collection of homemade brownies, bars and small desserts will adorn your dessert table. Many brides go with a smaller wedding cake, then have several small desserts for guests to enjoy along with the cake.
Bars, Squares & Triangles
Each Dessert is cut into small serving portions, either squares, bars or triangles.
One order yields 40 pieces.
Chocolate Raspberry Bars
Espresso Fudge Brownie Minis
Chocolate Peanut Butter Swirled Chewy Oatmeal Bars
White Chocolate Peanut Butter Bars
Raspberry Coconut Chocolate Bars
Cherry Cheesecake Squares
Blueberry Cheesecake Squares
Swirled Cheesecake Bars
Mounds Bars
Almond Macaroon Bars
Peanut Butter Chocolate Chip Squares
Pecan Pie Squares
Mini Desserts
These little tartlets have a homemade pastry crust the size of a mini muffin, each with a homemade filling. Order by the count of 2 dozen.
Little Lemon Mousse Tartlets
Little Raspberry Mousse Chocolate Glazed Tartlets topped with Fresh Raspberry
Little Key Lime Mouse Tartlets
Little Pecan Tarts
Little Whipped Chocolate Mousse Tartlets
SHEET CAKES
Some brides like to have a smaller wedding cake to cut, and have large sheet cakes held back in the kitchen for the staff to cut and serve. These cakes are frosted but not decorated.