James Avenue Catering
And Bakery
"The Party Starts Here!"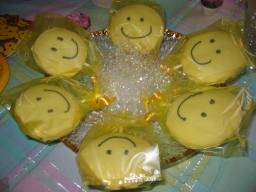 Williamston MI 48895
Phone: 517 655 4532 Fax: 655 2921
Dessert Menu
~
All of our desserts are Homemade, Beautiful and Delicious!
We have a large variety of desserts for any occasion!
Decorated Cakes
¼ sheet cake Serves up to 20
½ sheet cake 40
¾ sheet cake with filling 60
Full sheet cake 100
Flavors: white, chocolate, marble, yellow, banana, lemon, strawberry and raisin spice. Half sheet and Full sheet cakes may be two flavors!
Frostings: our homemade buttercream and chocolate buttercream is made with real butter, cream and imported vanilla, and is whipped until super fluffy!
Special Fru-Fru Frosting: Positively sinful! A whipped cream and cream cheese frosting that is ultra light, creamy and delicious.
Specialty Cakes
These cakes are all ¼ sheet size (9x13)
Mexican Pineapple Cake crushed pineapple, pineapple chunks, cream cheese icing and fresh strawberry garnish
Pink Fru-Fru Cake An outrageously fru-fru cake! A white cake marbled with pink strawberry batter, frosted with our super fluffy pale pink fru-fru icing, garnished with big whipped cream rosettes and fresh strawberries are plucked into the cream rosettes.
White Fru-Fru Cake Same as the pink fru-fru except cake & frosting are all white.
Apple Berry Cake with Cream Cheese Icing
Banana Butterfinger Cake A moist banana cake with a chocolate ganache icing, then covered with crushed Butterfingers.
Peanut Butter Cake with Velvety Peanut Butter Icing The name says it all!
Earthquake Cake A light chocolate cake served upside down, the top is a chewy pecan and coconut sensation, with a sweet cream cheese filling inside the cake.
Mississippi Mud Chewy chocolate & pecan cake with marshmallows & chocolate icing.
Loaded Carrot Cake Super moist and full of pineapple, raisins, nuts & carrot, with a cream cheese icing.
Extra Special Cakes
These cakes are available round or sheet cake style
Death by Chocolate A chocolate lover's dream! Moist chocolate cake filled with creamy whipped chocolate filling, then frosted with chocolate ganache.
Jimmy Cake Yellow cake with white buttercream icing, sprinkled with candy jimmies. Also available in chocolate cake with chocolate buttercream and chocolate jimmies.
Raspberry Fudge Cake Chocolate cake with raspberry filling and chocolate butter cream icing.
White Lace A white cake with custard buttercream icing and covered top & sides with shaved white chocolate.
Chocolate Peanut Butter Peanut butter buttercream icing over moist chocolate cake and then covered with chocolate ganache.
Caramel Cake Old fashioned caramel cake with cooked caramel icing.
Lemon Poppyseed Zesty lemon poppy seed cake layered with raspberry filling and frosted with cream cheese icing.
Red Velvet Real red velvet cake from an heirloom recipe, frosted with cream cheese icing.
Pink Champagne A pale pink cake made with real champagne with a very special pale pink icing.
Chocolate Malt Chocolate malted cream cheese icing over yellow or chocolate cake.
Coconut Fluffy white buttercream over yellow cake, covered with moist coconut with a fresh lemon curd filling.
Cookies and Cream Moist chocolate cake covered with white buttercream, with a chocolate sandwich cookie filling, and decorated with the same.
Strawberry Fantasy A white or chocolate cake covered with white buttercream, then decorated on top with chocolate dipped strawberries.
Café Au Lait Moist chocolate cake brushed with espresso, filled with whipped cream and iced with Kahlua buttercream.
Black and White Cake A layer of chocolate cake and a layer of white cake, with a chocolate butter cream filling, white buttercream icing, and chocolate ganache flowing over the top of the cake.
Lemon Cream Cake A yellow cake filled and frosted with fresh lemon curd lightened with whipped cream, decorated with whipped cream rosettes and fresh raspberries.
Wedding Cakes
We do wedding cakes in all of the flavors of our decorated cakes, and we use our whipped buttercream icing. We are able to do any cake design. Please call to make an appointment to look at pictures and to design your cake. Prices start at @ $2.25 per person for a basic design, multi-tiered cake, you may choose different cake flavors for each layer.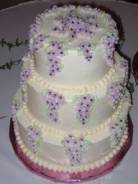 Wedding Cake for 75 guests
Special Tube Cakes
Mocha Fudge Cake with Chocolate Ganache Icing
Humingbird Cake A southern specialty with crushed pineapple, pecans & banana with a cream cheese icing.
Harvest Apple Cake with Cider Glaze
Triple Lemon Cake
Brownies and Bars
Each order yields 24 large pieces, or cut into 40-50 smaller pieces. Most may be cut into squares, bars or triangles. Please specify.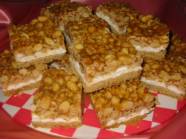 Salted Peanut chews
Toffee Topped Brownies Salted Peanut Chews
Espresso Fudge Brownies Lemon Cheesecake Squares
Cheesecake Swirl Brownies Cherry Cheesecake Squares
Chocolate Brownies with Reese's Fudgy Pecan Brownies
Peanut Butter Chips & Chocolate Chips Chocolate Brownies with Cream Cheese Icing
Chocolate Brownies with Chocolate Icing Neopolitan Bars
Peanut Butter Chocolate Chip Brownies Magic Bars
Almond Macaroon Brownies
Chocolate Raspberry Bars (50-60 perfect Squares,)
Chocolate Coconut Bars
Chewy Oatmeal Bars with Chocolate
Peanut Butter Topping
Mexican Brownies with Almonds
Cookies
Chocolate Chip Chocolate No Bakes
Peanut Butter Chocolate Cashew White Choc.
Oatmeal Raisin M&M Butter
White Chocolate Chip Cherry Shortbread dipped in Chocolate
Chocolate Chip with Raisins & Peanut Butter Chocolate Kisses
Dried Cherries Meringue Kisses
Snickerdoodles Cream cheese with Raspberry Filling & White Chocolate Swirls
Cheesecakes
Cheesecakes cut into 12-16 slices
Cappuccino Espresso-accented cheesecake with a cream layer, dusted with cinnamon & cocoa.
Raspberry Swirl Raspberry swirled through, with whipped cream rosettes & fresh raspberries.
White Chocolate Cashew White chocolate cheesecake, caramel-cashew topping & white chocolate shavings.
Kahlua Milk Chocolate Swirl Whipped cream rosettes on top and milk chocolate shavings.
Marble
Key Lime Cheesecake Squares
NY Style with fruit toppings: Cherry, Strawberry, Blueberry
Tropical With an apricote glaze over fresh, colorful tropical fruits.
Fun Sweets & Party Favors
Available individually wrapped, these make nice party favors. Also available boxed or on platters. Extra for individually wrapped.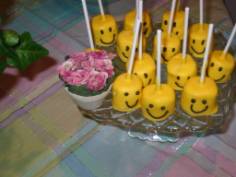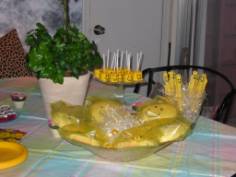 Chocolate Dipped Marshmallows Marshmallows on a stick, dipped in chocolate, swirled with colored or white chocolate and sprinkles. Can be done in any color to match your theme. Orders by the dozen
Smiley Face Marshmallows Marshmallows on a stick dipped in yellow chocolate, each with a smiley face. So cute! Price same as above
Chocolate Dipped Pretzels Pretzel rods dipped and swirled in chocolate with sprinkles, to match your color theme. Minimum:
Chocolate Truffles Handmade truffles, creamy chocolate center with a variety of toppings.
Peanut Butter White Chocolate Truffles A creamy peanut butter filling, dipped in white chocolate. Different designs may be piped on with royal icing on the top of each truffle, to match your theme. Example: Valentines day: red heart. Baby Shower favor: Diaper pin. Cocktail party favor: Martini glass with olive. Bridal Shower favor: Initials of the couples, or "Love." Holidays: pumpkins, Christmas trees, flags, and more. Minimum: one dozen
Party Favor Packaging: Tiny white bakery boxes are perfect for truffles. Very pretty when wrapped with mixed colors of curling ribbon. Clear party favor bags with ribbon ties are perfect for marshmallows & pretzels.
Miniature Cakes
Little Angel Cakes Tall individual angel food cakes (the size of a tall cupcake), drizzled with pale pink icing, with a tiny pink frosting rose and leaf atop each.
Coconut Castles Tall individual yellow cakes (the size of a tall cupcake), coated with a raspberry glaze and coated with coconut. Each is crowned with a fresh raspberry and mint leaf.
Petits Fours White cake cut into squares, hearts and circles, with a raspberry filling, coated with poured fondant icing, then decorated beautifully in pastel icing decorations.
Fairy Cakes Exactly the same as petits fours, except a little larger and more elaborate.